Apr 22, 2023
Mark Few has landed two more highly sought after transfers. Graham Ike was a 1st team All-Mountain West performer at Wyoming, averaging 19.5 points and 9.6 rebounds per game. The preseason MWC Player of the Year should be on the short list for preseason honors in the West Coast Conference. Along with Ike, Creighton's Ryan Nembhard is headed to Spokane. One of the best available point guards, Nembhard averaged 12.1 points, 4 rebounds and 4.8 assists per game for the Bluejays. And remember Steele Venters made the 20-minute journey from Cheney, Washington to Spokane earlier this month. He was the Player of the Year in the Big Sky. What a haul for Mark Few.
Apr 21, 2023
This past season, Xavier had one of the most impactful transfers with UTEP's Souley Boum and it looks like Sean Miller has done pretty well again. Xavier has gotten commitments from Dayvion McKnight, Quincy Olivari and Abou Ousmane who is the latest to join the Musketeers. Ousmane is a 6-foot-10 transfer from North Texas where he averaged 11 points and 6 rebounds per game. The 6-foot-3 Olivari led Rice with nearly 19 points per game and pulled down 6 rebounds per game. The 6-foot-1 McKnight led Western Kentucky in scoring, with 16.5 per contest. He also added 5 rebounds and nearly 4 assists a night. Indiana transfer Logan Duncomb is also headed to Xavier.
Apr 14, 2023
Daniel Ortiz is a great get for UAB head coach Andy Kennedy. The 6-foot sophomore via North Alabama is an excellent three-point shooter. He scored nearly 15 points per game in each of his two seasons at UNA.
Apr 11, 2023
New Cal head coach Mark Madsen has brought in a couple of Mid-Major All-Americans to help start the rebuild. Jalen Cone put up some impressive numbers at Northern Arizona. The 5-foot-11 guard, who can really shoot it, averaged nearly 18 points per game. NAU didn't have a great season so that kept Cone off the Lou Henson All-America team, but he can play. Two years ago, Fardaws Aimaq was a Lou Henson All-American and was the recipient of the Riley Wallace award, presented annually to the most impactful transfer in college basketball. That season Aimaq averaged 15 rebounds per game for Mark Madsen at Utah Valley.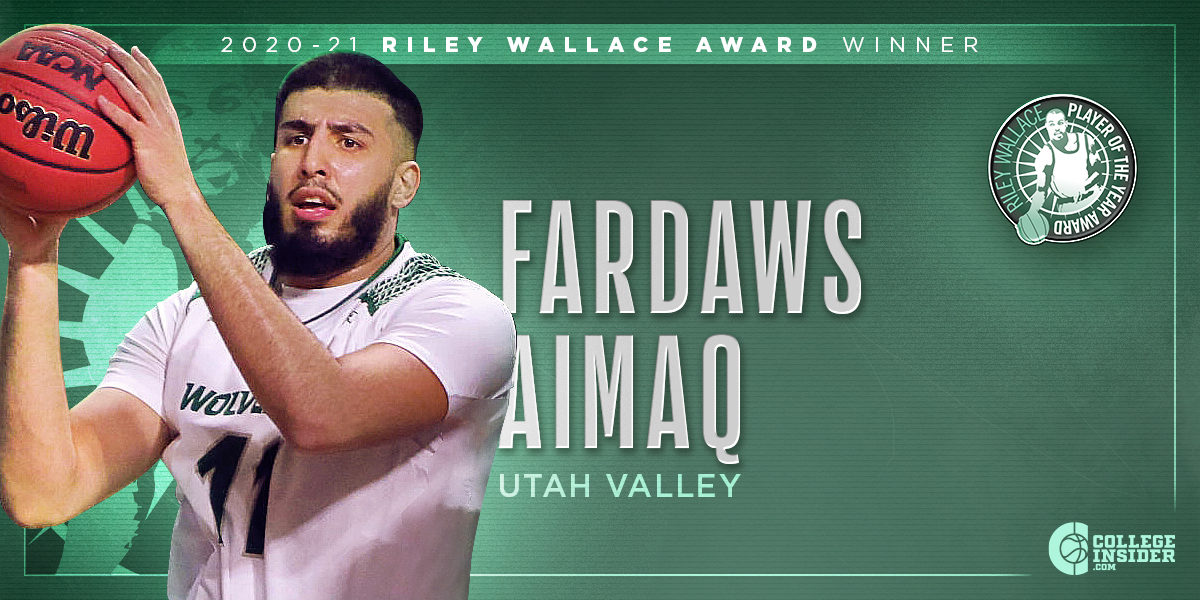 Apr 09, 2023
It wasn't going to be easy to replace Marcus Sasser, but Kelvin Sampson did a heck of a job re-tooling Houston's backcourt. LJ Cryer is an All-American caliber player. He averaged 15 per game for Baylor and shot 42% from three. The Cougars also added Damian Dunn. The 6-foot-5 transfer from Temple is tough and he makes winning plays.
Apr 08, 2023
Steele Venters was the best player on the best team, during the regular season in the Big Sky Conference. The 6-foot-7 wing was a Lou Henson All-American at Eastern Washington. The Eagles stumbled at the end of the season so Venters didn't get as much national attention as he deserved. But he will get plenty of attention next season. The Big Sky Player of the Year is a great get for Mark Few and Gonzaga.
Apr 03, 2023
If anyone can get the Cal Bears back on track, it's Mark Madsen. The former Stanford All-American, who grew up close by in Danville, Calif, paid his dues as an assistant in the NBA before taking over at Utah Valley in 2019. After one subpar season, Madsen turned the Wolverines into a contender in the Western Athletic Conference. Outright regular-season champions in his second season and co-champs in year three. And this past season was very impressive, considering that the WAC was as good as it has been in many years. Madsen's team didn't punch a ticket to the NCAA Tournament, but they did make a run to the NIT Final Four.
Apr 03, 2023
Pat Skerry pretty much sums it up. UConn has been rolling teams...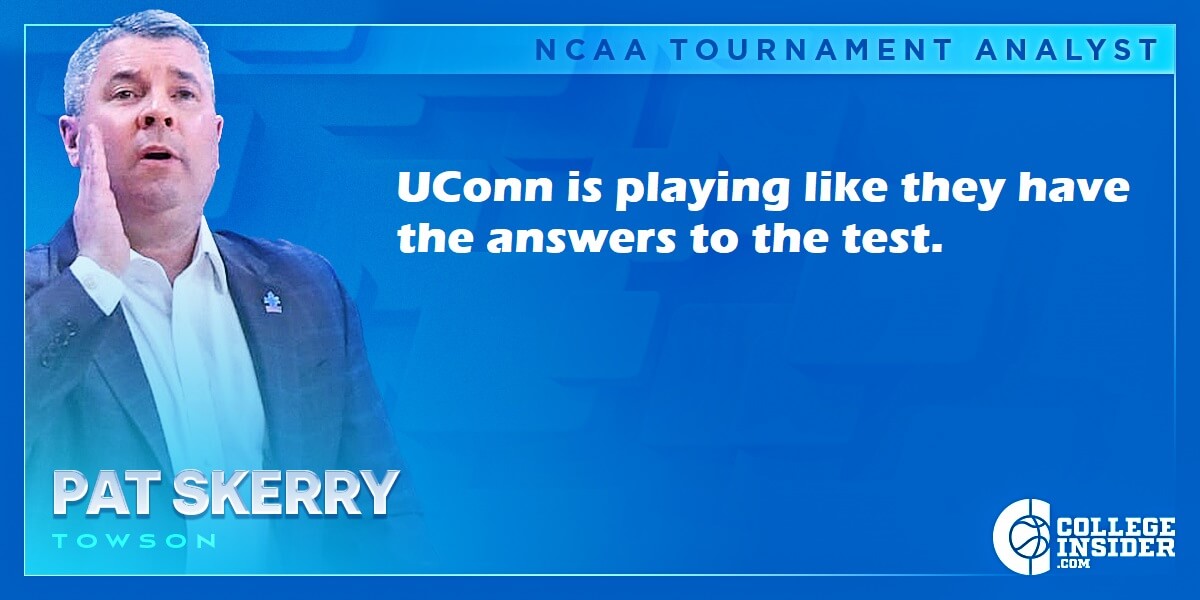 CLICK HERE to see commentary from over 70 Division I coaches on Twitter.
Apr 02, 2023
How about some applause for Sam Houston Athletic Director Bobby Williams. In his 25 years he hired just two coaches… Bob Marlin (1998-2010) and Jason Hooten (2010-2023). That's an impressive track record and he hit another homerun with the hiring of Chris Mudge, who was Hooten's first staff hire when he took over back in 2010. Hooten will tell you that Mudge is 'hands down' one of the smartest guys in the profession. Hooten would have loved to have brought him to New Mexico State, but he really wanted to see his longtime assistant run his own program. Expect winning to continue in Huntsville, Texas.
Mar 24, 2023
Providence fans were not happy about the way in which Ed Cooley departed. Most fan bases get pissed off when their coach leaves unexpectedly, although this was a very well publicized unexpected departure. Well don't dismay Friar faithful… You have a really good coaching coming in. Prior to his hiring at George Mason, Kim English was highly thought of in the profession and most insiders had him pegged for major success down the road. Clearly the Big East is a jump up from the Atlantic 10, but English was a great hire. He will have success.
Mar 23, 2023
Robert Morris head coach Andy Toole is absolutely right. You would be hard pressed to find anyone, outside of Manhattan Kansas, who believed Kansas State would be a player on the national stage...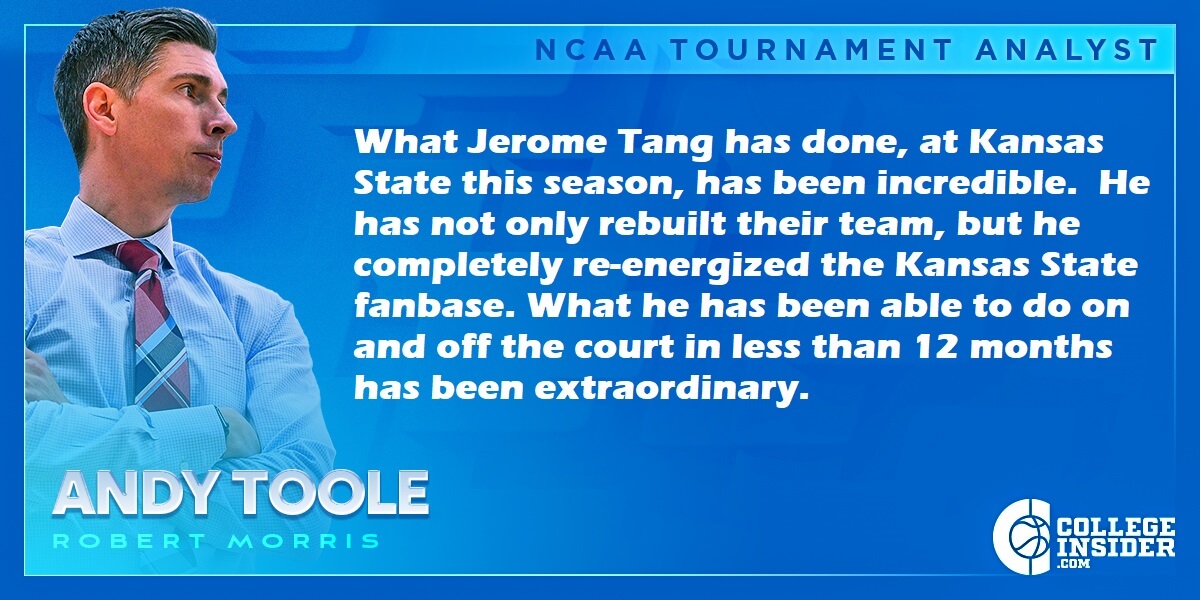 CLICK HERE to see commentary from over 70 Division I coaches on Twitter.
Mar 19, 2023
This is the best hire of the year... Rick Pitino will get St. John's back to the top. It's easy to forget how good St. John's was back in the 1980s when the Big East was king, but Pitino had a front row seat. In 1985 he took over a Providence team that had struggled mightily. Two years later the Friars were in the Final Four. The 80s were a lifetime ago, and nobody expects the Big East to return to those heights, but Pitino will get NYC basketball back on the map. And just like in 1985 (Villanova), Pitino takes over the same year a Big East program was crowned National Champs.
Mar 18, 2023
Hartford was 5-23 this season and had just 2 wins against division I programs, including a 74-66 win over Fairleigh Dickinson, which is now one win away from the Sweet 16. Hartford shot 50% that night and was 9-for-20 from beyond the arc. It's a simple game... If you make shots, you can beat anybody.
Mar 13, 2023
Todd Simon is easily one of the best hires of the year. What he did in six seasons at Southern Utah did NOT get enough ink. Coaches at the mid-major level are always graded on their NCAA tournament appearances. Simon didn't reach that mantle, but he did just about everything else. He took over a program that was a bottom feeder in the Big Sky and would eventually lead them to a regular season title. He had multiple postseason appearances and postseason wins and he capped off his time in Cedar City with back-to-back 20 win seasons for the first time in school history. The program had a grand total of one 20-win season before Simon took over. He will get Bowling Green back to the top of the Mid-American Conference.
Mar 11, 2023
Tough loss last night for Sam Houston State. Grand Canyon shot over 54% from the field and was 16-for-30 from beyond the arc. All season long, the Bearkats were one of the best defensive field goal percentage teams in the country. And few teams, at the mid-major level, did a better job of guarding the three-line. Despite an historic season, Sam Houston won't be in the NCAA tournament. Welcome to life in a one-bid league. Head coach Jason Hooten and his team will now have to wait for an invite to the NIT and they should get an invite.
Mar 05, 2023
What an unbelievable season for UNC Asheville. The Bulldogs ridiculous comeback on Sunday, gets them back to the Big Dance for the first time since 2016. Drew Pember is having as good of a season as ANY PLYAER in the country and he and Tajion Jones can play for any team in America. Head coach Mike Morell lost 27 games in his first season. Now he heads into the NCAA tournament with 27 wins.
Mar 04, 2023
Impressive one-sided win last night for Utah Valley. The 113-69 win over Stephen F. Austin wrapped up the regular season for head coach Mark Madsen and the Wolverines. Now in his fourth season, Madsen has taken the program to the next level. Former head coach Mark Pope did a great job before leaving for BYU, but Madsen has turned the program into a WAC championship contender. Utah Valley was picked to finish near the bottom of the league.
Feb 26, 2023
Duke looks like a different team, since the 81-59 loss at Miami. With two games remaining before the ACC tournament, the Blue Devils are playing their best basketball at the right time of the year. Jon Scheyer has done a phenomenal job and should be a serious National Coach of the Year candidate.
Feb 23, 2023
It's been a tough stretch for Johnny Dawkins and UCF. The Knight have lost 8 of 10 and have fallen to 6-9 in the American Athletic Conference. It's no surprise that the recent slide has the talking heads speculating about his future. They were in position to win every one of the eight games they lost so it's not as if this team is a complete mess. Dawkins is an excellent coach and one of the best people in the business. He should most definitely be back next season.
Feb 09, 2023
Last night's win over VMI was number 20 for Furman. What else does Bob Richey need to do before he starts getting mentioned among the top young coaches in the game? Yes, Furman hasn't been to the NCAA Tournament since 1980, but Richey has had the Paladins in the mix every in each of his six seasons, averaging just under 22 wins per season. With a month to go, more wins will follow.
Jan 24, 2023
A lot of people wrote off Belmont after a 1-3 start, but the Bruins now head into late January in a familiar spot… 1st Place. Only 4 programs (Baylor, Gonzaga, Houston, and Kansas) have won more games than Belmont since Casey Alexander succeeded Rick Byrd in 2019-20. Casey Alexander is NOT a self-promoter, so he doesn't get nearly the national notoriety that he deserves.
Jan 20, 2023
I really like what Levell Sanders is doing at Binghamton. Currently in first place, the Bearkats are a little ahead of schedule. In his second season, Sanders has done a nice job of changing the culture of the program. Vermont, Bryant and UMass Lowell are all a little better than Binghamton, but don't be surprised if Binghamton makes a little noise down the stretch.
Jan 17, 2023
The Ivy League is sneaky good. Just a few years ago the league was one of the best mid-major leagues in the country. Covid and a myriad of transfers seemed to take the Ivy out of the spotlight, but it might be back. Neither Princeton nor Yale had any marquee wins in the non-league, but both will compete for the league crown, along with Penn and Cornell. Penn's Jordan Dingle is the one true All-American, but there are a lot of really good players in the league, including Princeton's Tosan Evbuomwan.
Jan 09, 2023
Terrific win last night for Northwestern at Indiana. The Wildcats are now 3-1 in the Big Ten. There is A LOT of basketball left to be played, but what a job Chris Collins has done since taking over. He led the program to its only NCAA appearance, and they look like a team that can dance again in 2023. Guards Chase Audige and Boo Buie can play.
Dec 18, 2022
After losing its first game of the season, last week against Alabama, Houston responded with an impressive 69-61 win at No. 2 Virginia. A big win for Houston means it's time for all of us to get a history lesson on Kelvin Sampson. The Cougars can't have any success without a handful of people "reminding" us about Coach Sampson's problems at Indiana. It's comical.
Nov 28, 2022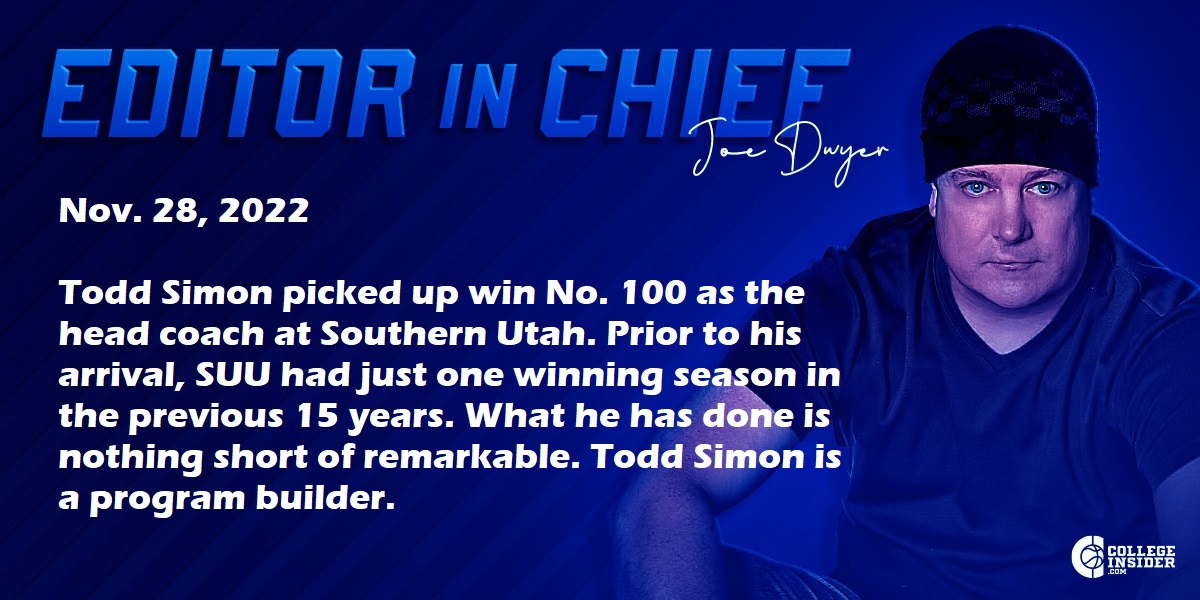 CLICK HERE to check see more from Joe Dwyer and other members of the College Insider staff on Twitter.
Nov 18, 2022
The Louisiana Ragin' Cajuns are 4-0 for the first time since 1990-91. Quietly Bob Marlin has put together quite a resume, which includes a JUCO National Championship, Coach of the Decade in the Southland, multiple NCAA and postseason appearances and the Skip Prosser Man of the Year award. He's a first-class individual.
Nov 10, 2022
It's been a decade since Maine won at least 10 games and 13 seasons the Black Bears finished with a winning record. First-year head coach Chris Markwood was a great hire. It may take a little time, but he will get that program back on track.
Nov 08, 2022
Sam Houston head coach Jason Hooten doesn't get nearly enough credit for his defense. His teams always defend. On Monday night the Bearkats forced Oklahoma into 21 turnovers and limited them to 26% from beyond the arc in the 52-51 win.