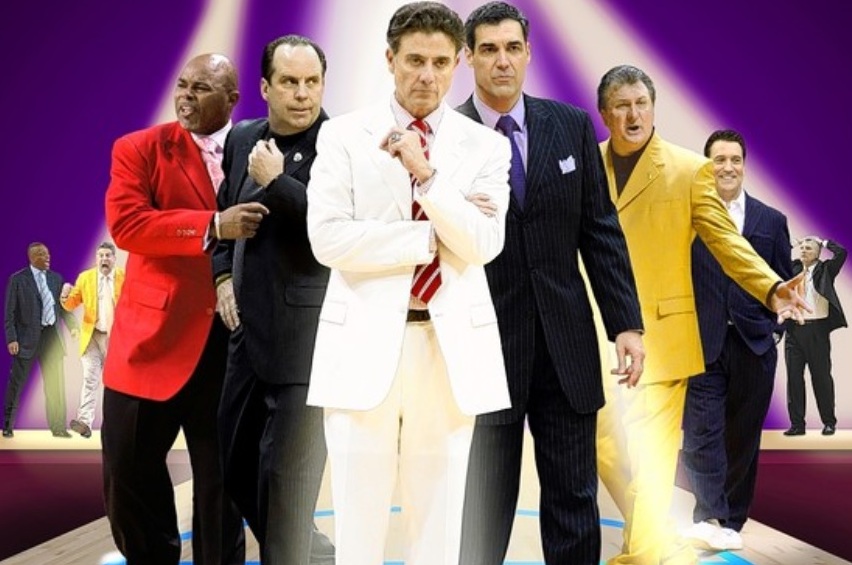 This story originally ran in the Wall Street Journal on March 18, 2011.


The Tournament, and What I Wore
College Basketball Coaches Try on Mustard Suits and Sneakers; the 'Tyrolean Hat' Doctrine
By Ben Cohen
Updated March 18, 2011 12:01 a.m. ET
Baseball managers wear the same uniforms as the players, including form-fitting pants that are awfully similar to skinny jeans. NBA coaches wear conservative suits to adhere to the league's dress code. Football coaches are often sartorially limited by the threat of frostbite.
But in college basketball, the coaches have been given a gift that is at once wonderful and terrifying: The freedom to wear anything they want.
The result is that basketball games, including those in the NCAA men's tournament, which kicked off this week, have become a runway show of sorts—if runway models were ever allowed to dress themselves.
Louisville's Rick Pitino likes to dust off a white suit for big games (he wasn't wearing it Thursday when his team was upset by Morehead State). West Virginia's Bob Huggins, for whom high couture is a track suit, once rocked a four-button mustard-yellow suit complete with matching shoes (he wore a black jogger during his team's first round win over Clemson Thursday). For rivalry matchups or other big games, some coaches will outdo each other with bright jackets and school-colored neckties.
Drexel's Bruiser Flint reads men's style magazines and watches the TLC show "What Not to Wear." His mother, a seamstress, made prom dresses for girls in the neighborhood when he was a child. He now favors Canali and Armani. "Who wouldn't?" Flint said. "This is a business. You're going to work, so look the part."
Jesse Thorn, the co-host of "Put This On," a web series about dressing like a grownup, said it makes perfect sense for a coach to take some sartorial risks. "The coach is a guy who should be the focus of attention because of his gravitas and his position as a leader on the team," he said.
As for Pitino's white suit, Thorn wasn't a fan. He said the color is inappropriate for winter, the cut was too baggy for the coach's slender frame, and the shoes didn't work. "He's wearing loafers that border on bedroom shoes," Thorn said.
Since 1998, an annual event called the Runway to the Fashionable Four has fitted 64 men's coaches into a bracket to determine college basketball's best-dressed. This year's contest, hosted by collegeinsider.com, is being judged by a panel that includes Virginia Tech coach Seth Greenberg.
One of the game's slickest dressers is two-time Fashionable Four winner Jay Wright. The Villanova coach is known for looking dapper in a three-piece suit accentuated with a pocket square. Virginia Tech's Greenberg said he's so taken with Wright's fashion sense that he compares him to the famously suave actor, George Clooney. "Clooney's in a class by himself," Greenberg said of Wright. "The guy has more buttons than I have hair on my head."
One of this year's new fashion stars is St. John's coach Steve Lavin. In January, when the team hosted Duke, Lavin took off his tie and slipped into white sneakers for a charity event. His team promptly rolled to an upset win. Ever since, Lavin has ditched the tie and worn bone-white Nikes that look like they belong at a nurse's station.
Necktie All-Americans include Michigan State's Tom Izzo, who sometimes wears green ties. And Greenberg said Illinois coach Bruce Weber "has the greatest collection of orange ties in the history of college basketball."
The coaching fashion scene isn't always docile. At a press conference earlier this season, Kentucky's John Calipari responded to a question about coaching attire to take a couple of jabs at rivals Pitino and Huggins. Calipari suggested there had been a few suits he'd seen that made him want to gag. "There's a white suit I saw. There was a gold suit that I saw—I don't know if it was yellow or gold—where the pants were too long. The guy at West Virginia wore it."
The larger question, of course, is whether clothes have any impact on the outcome. Like a lot of coaches, Pitino seems to think it's possible. With his Cardinals trailing Georgetown at halftime in 2008, he changed into darker threads in the locker room. Louisville erased an eight-point deficit and won.
Three years ago, coaching for the first time against Cincinnati—where he'd coached for years—Huggins donned the now-famous four-button gold suit. The Mountaineers lost by 23 points. For the next game, he reverted to his tracksuit, which was also his choice at last year's Final Four. Glenn O'Brien, GQ's style maven, said that in the black warmups, Huggins "looks like a scary Jesuit assistant principal." In that yellow suit, O'Brien said, "he looks like a Las Vegas televangelist."
Experts say the one look that never fails is the form-fitting dark suit. A coach prone to prolific sweating should invest in a lightweight jacket designed for summer. And instead of a pastel coat, why not a blazer with a university crest?
As for the NCAA tournament, coaches of top-seeded schools generally aim for understated class. But style gurus think underdogs should think about dressing up to the occasion. "If I want to do something superstitious to increase my team's chances—like, you know, wear a Tyrolean hat like someone traipsing through the German Alps—I think that's the time to do it," Thorn said.