THE 2011 CIT SCHEDULE/RESULTS

All times EST

FIRST ROUND (March 14-16)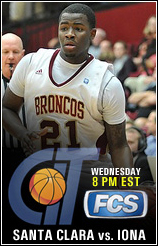 MONDAY March 14
Buffalo 75, Quinnipiac 68 RECAP

TUESDAY
Ohio 65, Marshall 64 RECAP
East Tennessee State 76, Furman 63 RECAP
Jacksonville 71, East Carolina 66 (OT) RECAP
Northern Iowa 84, Rider 50 RECAP
Air Force 77, North Dakota 67 RECAP
Santa Clara 68, Northern Arizona 63 RECAP
Hawaii 76, Portland 64 RECAP

WEDNESDAY
Western Michigan 74, Tennessee Tech 66 RECAP
Iona 85, Valparaiso 77 RECAP
SMU 64, Oral Roberts 57 (OT) RECAP
San Francisco 81, Idaho 73 RECAP


SECOND ROUND (March 18-19)

FRIDAY
Santa Clara 88, Air Force 75 RECAP

SATURDAY
Buffalo 49, Western Michigan 48 RECAP
SMU 63, Jacksonville 62 RECAP
San Francisco 77, Hawaii 74 RECAP


QUARTERFINALS (March 21-22)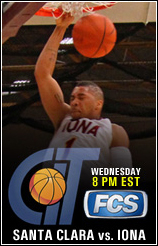 MONDAY
SMU 57, Northern Iowa 50 RECAP

TUESDAY
East Tennessee State 82, Ohio 73 RECAP
Iona 78, Buffalo 63 RECAP
Santa Clara 95, San Francisco 91 RECAP


SEMIFINALS (March 25-26)

FRIDAY
Santa Clara 72, SMU 55 RECAP

SATURDAY
Iona 83, East Tennessee State 80 RECAP


2011 CIT CHAMPIONSHIP (March 30)

Santa Clara 76, Iona 69 RECAP



FORMAT: 12 teams will advance with four teams receiving a bye into the quarterfinals, based on seeding. The seeding will be determined using RPI, strength of schedule, conference ranking and geographical location.

The tournament format is similar to that of the old NIT model, which had not pre-set bracket, with the results from the previous round determining the matchups in the next round. Ideally teams can be kept within their geographic region to cut down on travel.