THE 2009 CIT
Tremendous Experience
by Greg Kampe, Oakland University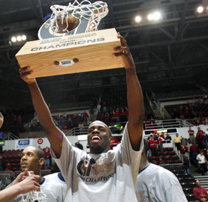 We were excited to be a part of the inaugural CollegeInsider.com Postseason Tournament (CIT). We finished the regular season 22-12 (13-5 in The Summit League).

Despite making up nearly two-thirds of men's division I college basketball programs, there are very few postseason opportunities for mid-major schools. The introduction of the CollegeInsider.com Postseason Tournament changed that. The CIT rewarded programs that had outstanding seasons. Receiving an invitation was a big deal for Oakland University and the 15 other participants.

Belmont University had been to three straight NCAA Tournaments, nearly knocking off Duke University in 2008, but for all their successes, they had never won a postseason game at the division I level. Belmont went on the road and beat the University of Evansville in the first round of the CIT. Liberty University also recorded division I postseason wins for the first time in school history, while the University of Idaho and James Madison University each won a tournament game for the first time in over 25 years. The Citadel, a program steeped in tradition, participated in the postseason for the first time in the 167-year history of the college.

The first year of the CIT produced some exciting moments, including a 79-foot buzzer beater by Bradley University against my team. It is the longest shot to win a postseason game in the history of division I college basketball. It certainly was an impressive opening act for the inaugural CollegeInsider.com Postseason Tournament.

CollegeInsider.com is one of the most respected entities in our business and there is no doubt in my mind that the CIT has a very bright future. With an ever-growing interest mid-major basketball, the CIT will emerge as "the postseason event" for deserving programs outside the proverbial power conferences.
Click on the team names for the recap. Click on the score for the box score.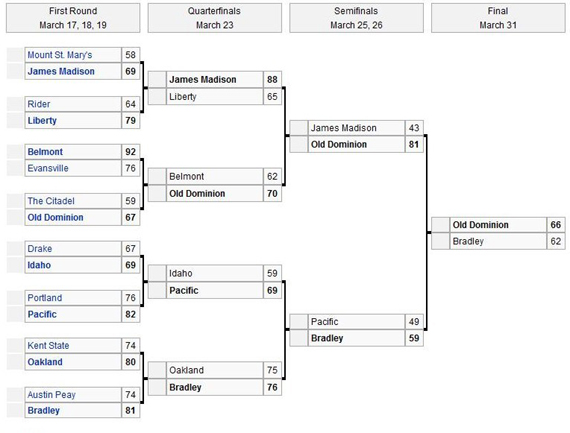 Old Dominion wins inaugural CollegeInsider.com tournament
PEORIA, Ill. (AP)-- Frank Hassell, playing with a stress fracture in his right leg, had 18 points and a career high 15 rebounds to lead Old Dominion to a 66-62 win over Bradley for the title of the inaugural CollegeInsider.com tournament on Tuesday night in front of 8,118 at Carver Arena. ODU finished the season 8-6 on the road.

Marsharee Neely added 16 points for Old Dominion (25-10), of the Colonial Athletic Association, which held off a late surge by Bradley (21-15). Gerald Lee had 13 points.

The Monarchs were ahead 48-37 midway through the second half when Bradley, of the Missouri Valley, fought back to 57-55 on Sam Singh's jumper with 1:25 left. But the Braves couldn't get closer.

"I feel kind of bad for Bradley. They played a great game," said Old Dominion coach Blaine Taylor. "But we won it, and we ain't giving it back."

Old Dominion trailed by nine points in the first half before Hassell's eight points and 10 rebounds helped spark a comeback. The teams were tied at 28 at halftime.

"A lot of teams would have taken a knockout punch, the way we fell behind early on," Taylor said. "They had a great crowd here tonight and, boy, did they come ready to play. But I'm proud of this young bunch and how they played under pressure."

Chris Roberts led Bradley with 15 points. Sam Maniscalco had 12 points and Theron Wilson added 11 for the Braves.

Bradley coach Jim Les said he knew his young team was in for a tough game against a bigger, stronger opponent. Old Dominion outrebounded Bradley 42-35, with several key offensive rebounds late in the game.

"We respected who they are. They turned out to be just a little bit bigger and tougher and they came up with the second-half points when they needed them," Les said. "They really grabbed some boards and had some dead-on putbacks late in the game."

Taylor said Hassell's, the championship game's most valuable player, played much of the second half of the season with the stress fracture. He played Tuesday's game with a light cast on his lower calf and ankle.

"I'm just so glad we won," Hassell said. "It's the first tournament championship I've ever won. Ever. What a great team and what a great coach." Hassell got his third straight double-double tonight, his fourth of the season, and fifth of his career. Hassell hauled down nine offensive rebounds.

Joining Hassell on the all-tournament squad were fellow teammates Marsharee Neely and Gerald Lee.

The 16 points by Marsharee Neely was his second highest of this season. He scored 20 earlier this year against UNC Wilmington. Ben Finney, who ranks in the top five of the CAA in steals came up with two more along with two blocked shots.

The Monarchs finished the season winning 14 of their last 16 games. The win was the 25th of the year and the fourth time in five years a Blaine Taylor ODU squad has won 24 or more games.

ODU's lone senior Jonathan Adams played in his 135th career game which is a new ODU mark, breaking Brian Henderson's 134 of a year ago.


ALL-TOURNAMENT TEAM

Frank Hassell (Old Dominion)
Erik Kangas (Oakland)
Gerald Lee (Old Dominion)
Sam Maniscalco (Bradley)
Marsharee Neely (Old Dominion)
Chris Roberts (Bradley)
Theron Wilson (Bradley)
CIT MVP: Frank Hassell (Old Dominion)

HONORABLE MENTION: Shy Ely (Evansville), Novar Gadson (Rider), Devon Moore (James Madison), Demetrius Nelson (The Citadel), Nik Raivio (Portland), Drake Reed (Austin Peay), Alex Renfroe (Belmont), Anthony Smith (Liberty), Kyle Swantson (James Madison), Sam Willard (Pacific)