18
Dec
J-Z on Tour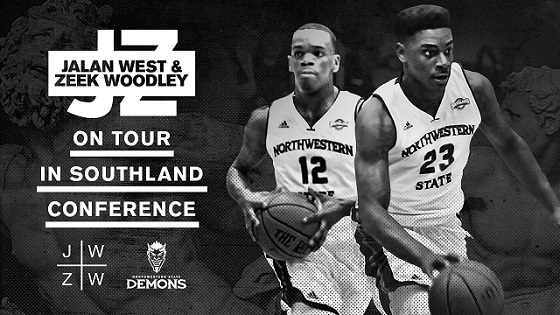 It's the final weekend of basketball before the Christmas holiday and there are a number of must-see games on the schedule, including UL-Lafayette at Northwestern State on Saturday afternoon. Both teams figure to be challengers for league titles, in the Sun Belt and Southland respectively. And both teams boast
candidates for the Lou Henson National Player of the Year
honors.
But while the Ragin' Cajuns run to the NCAA Tournament brought some national attention to Shawn Long, most college basketball fans haven't been introduced to the Demons duo or Jalan West and Zeek Woodley. They can play.
West was a freshman on Northwestern State's last trip to the Big Dance in 2013. A highly-coveted recruit for head coach Mike McConathy, West has matured into one of the best point guards in college basketball. He is lightning quick from end to end and difficult to keep in front defensively. West is a high-major lead guard that can score. After averaging just over 10 points per game as a freshman, West nearly doubled that last season with just over 19 a game earning him
Lou Henson All-American honors
at season's end. The fact that he's 5-foot-10 has given some NBA scouts reason to pause, but he definitely has game for the next level.
While West recently had 28 against Louisiana Tech he hasn't put up huge point totals through the early part of the season. But he hasn't had to. Sophomore Zikiteran "Zeek" Woodley has provided plenty of scoring punch. After West had been named Southland freshman of the year in 2013, Woodley took the honors last season. He was really good last season. He's a lot better this season.
The 6-foot-2 guard was a matchup nightmare for Southland Conference foes last season. Playing at the 4 spot he just drove past everyone. Zeek is a big time athlete. A strong, physical wing who can rebound and shoot it from beyond the arc. With five straight 20-plus games Woodley is averaging just under 24 points per contest so far this season.
Keep an eye open for Kevaney Martin's feature on J-Z on Tour in an upcoming episode of Mid-Major TV.
FLYING HIGH
West Virginia head coach Bob Huggins once told me, "It's amazing what happens when you play hard." That's been a recipe for early success in Martin, Tennessee.
There hasn't been much to be excited about in the past few seasons at UT-Martin, but first-year coach Heath Schroyer is in the process of changing that. In case you hadn't noticed the Skyhawks are 6-3 on the young season. His team plays hard and plays with a lot of effort and they are just two wins from matching last season's win total.
JC transfer Twymond Howard, who began his career at UTEP, has made an immediate impact. The 6-foot-6 post player is averaging 14 points and 6 rebounds per game. A good inside player, Howard can also step out and shoot it from beyond the arc. The JUCO All-American has been a great addition, but guard play has been the driving force behind the quick start.
Seniors Marshun Newell and Deville Smith have been dynamite. The 6-foot-3 Newell is a very athletic guard who can score. He is explosive. Smith is also an exciting player to watch. The 6-foot lead guard can score and distribute. The backcourt duo combine for 25 points, 9 rebounds and 7 assists per game.
The Ohio Valley Conference is loaded this season, but Schroyer's team will be a major factor in the league. The play hard, the play smart and they are mentally tough. One really good measuring stick for mid-majors is how they shoot from the free throw line. UT-Martin is shooting 73% as a team.
WORD UP
It was a good spot for a letdown for one of college basketball's newest division I members but they responded. Impressive win.
Last week's thriller at Nebraska was a signature win for Incarnate Word. But equally as impressive was the follow-up win on Wednesday at Grand Canyon. One week after stunning the Cornhuskers, Ken Burmeister's team rallied to win another one. This time it didn't come down to the final seconds, but it was no less dramatic as Denzel Livingston capped a huge night with a jump shot with 22 seconds remaining to give the Cardinals the win. Livingston's career-high 34 helped Incarnate Word overcome a double-digit halftime deficit. He will be a first team All-Southland Conference selection.
Burmeister's group won 21 games last season, but played a schedule heavy with non-division I opponents. This season the Cardinals play 24 DI programs, which includes a full Southland Conference slate. Despite not playing a full conference schedule last season they were arguably the fifth best team in the league. Not bad when you consider they were in transition and that there 14 teams in the SLC.
POSTSEASON?
Okay is a little early to be talking about postseason for a couple of programs that have never actually played a postseason game, but there is some optimism surrounding the programs at North Florida and UC Davis.
First, if you haven't already listened be sure to check out Brian Doyle's recent
podcast with North Florida coach Matthew Driscoll
. Great interview. Now in his sixth season Driscoll has a team that will challenge Florida Gulf Coast and USC Upstate in the Atlantic Sun Conference.
Jalen Nesbitt is the lone senior on a very athletic team, which plays with a lot of energy. And Driscoll's top two scorers are only sophomores. Guard Dallas Moore leads the way with just under 18 per game, while 6-foot-8 Chris Davenport is second with 12 points per contest and he leads the team with 6.5 rebounds per game. Junior Beau Beech is a terrific player. The 6-foor-8 wing can really shoot it from three-point range. The Ospreys are very good.
About 3,000 miles away Jim Les has his team excited about the first couple of months of the season. At 7-1 the Aggies are two wins away from the best start in the 104 year history of UC Davis basketball.
Now in his fourth season Les has an older and experienced team. They play smart and they play physical. Very tough and savvy defensively, the Aggies extend the floor with good on ball pressure. They are unbeaten when they hold teams under 60 points. Offensively they space the floor, execute in the halfcourt and shoot the three. And they have a superstar in senior Corey Hawkins.
The 6-foot-3 Lou Henson preseason All-American is averaging just north of 20 points per game. He's shooting 53% from the field and 56% from 3-point range, which is seventh best in college basketball.
They play hard and they play well together. Add in an All-American and it's an equation for a bunch of wins this season.